When seasonal SEO data is leveraged, it helps inform your website strategy all year.
Seasonal SEO and Your Website

Does your SEO strategy account for seasonality? 
If not, then you may have noticed a dip in traffic to your website before holidays like Christmas, New Year's, Memorial Day, or other special days throughout the year. 
Thankfully, there's a strategy called seasonal SEO that can help you maintain your rankings, no matter what's being celebrated. 
What is Seasonal SEO? 
Seasonal SEO is the impact of events like annual holidays on the performance of your website in organic search. Typically, seasonality affects the rankings of websites because the intent of search queries changes in the time leading up to holidays and similar events. 
How Do Search Queries Change Seasonally?
Search queries change as consumer intent shifts during particular seasons of the year. For example, the search term "fireplace tools" in the summer can align with an informational intent or a commercial intent. As you get closer to the colder months in the United States, the query includes more informational-focused website pages because people are ready to start comparing products before making a purchase. 
We can see this in the way Google ranks sites differently for this term in the summer compared to the late fall as it's starting to become chilly: 
Top 5 Google Rankings in June 2021 (including the intent) 
CB2 (Commercial)
U.S. Fireplace Store (Commercial)
Design Toscano (Commercial)
2Modern (Commercial)
Walmart (Commercial) 
Top 5 Google Rankings in November 2021 (including the intent) 
Lekker Home (Commercial)
Firebacks (Informational)
Mantels Direct (Informational)
Lowe's (Commercial)
Amazon (Commercial) 
How Does Google Know When to Rank SEO Seasonally? 
Google is always paying attention to the types of search queries people are using, the variations of search terms, and their behaviors once they click on organic search results (Are they scrolling the page? Are they buying more products?). 
Based on these insights, the search engine may rank website pages differently to meet searcher needs at certain times of the year. This directly impacts where your pages are ranked and, therefore, the volume of traffic those pages are receiving. 
What Can You Do About It?
First, you can do some research on keyword trends using Google Trends. For example, here's how the search volume for "fireplace tools" compares over the past 5 years in the United States: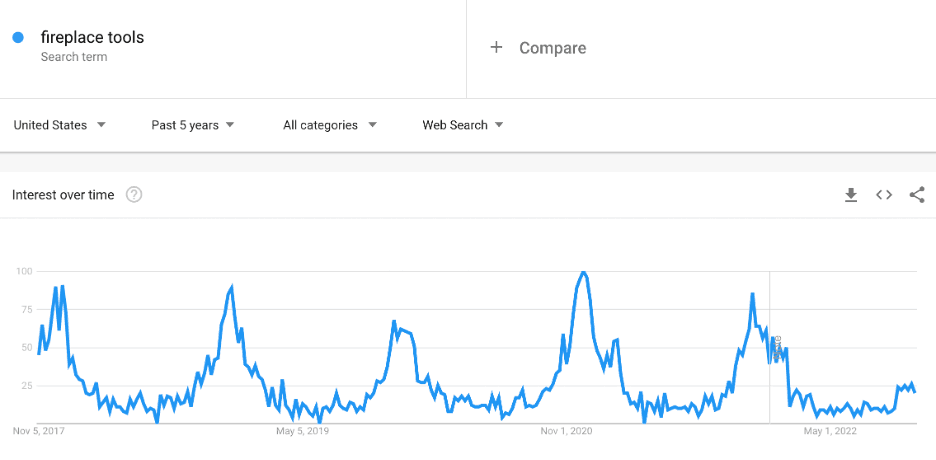 Source: Google Trends
You can see it spikes every year around November or December.
Yet this doesn't tell you about the intent behind the search query. To get that data, like I did comparing the summer and fall periods, you can type the same search query into Google. Then, click on "Tools" under the search bar and adjust the date range to get the results for the desired period. From there, you can see how Google ranked websites for that search term during that date range. 
With this data in mind, you can determine if you need additional content for adjacent keywords, or if you need to shift content on pages that target the specific keyword. 
Discuss these options with an SEO expert before proceeding, as seasonal SEO impacts how your business operates and can effectively meet business KPIs.