Why Facebook Social Media Advertising for 2016
If you think 2015 was a banner year for social media advertising, then just wait until you see what is on tap for 2016. These paid advertising opportunities from Facebook are more prolific and more targeted, and could be just what you need to step up your profits in the next 12 months.
Why Facebook
Facebook still has the largest social media audience, so it retains extremely valuable demographic and interest-based data businesses can leverage for social advertising.
It also has a number of ad programs. Rather than just one or two ad formats, Facebook offers a greater variety of options, which makes it possible to customize an approach based on your audience, your products and services, and your resources.
Our Top 3 Facebook Ad Types
As specialists in paid social advertising, we use Facebook ads for many of our clients. While there is not one strategy that works for every business, we think these ad types deserve a closer look in the coming year.
Carousel Ad
One of the more popular – and now most effective – ad types on Facebook is the Carousel ad. This type allows you to show 3-5 images in a single unit with each image linking to a different page on your website.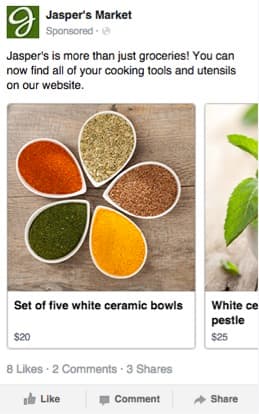 Carousel paid social ad on mobile.
Carousel ads help businesses better engage Facebook users with more options, with the opportunity to upsell to prospective customers. While carousel ads have been around since 2014, we now have the numbers to prove it works. Advertisers have seen this ad type drive 30 to 50 percent lower cost-per-conversion and 20 to 30 percent lower cost-per-click than single-image link ads.
Dynamic Product Ad (DPA)
Another Facebook ad type to watch in 2016 is the Dynamic Product Ad (DPA). Primarily a retargeting tool for social media advertising, it shows ads to users who visited your website but did not make a purchase.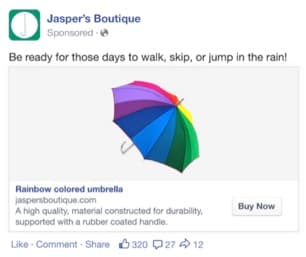 DPAs can encourage shoppers to make a purchase even after they leave your site. You can consider using these ad units to show the same product they were looking at on your site, or to show similar products, add-ons, or more expensive items in the same category. There are a lot of possibilities with DPAs, so businesses may want to try them out in 2016 and measure the success.
Lead Ad
The third, and perhaps most intriguing, ad type is Facebook Lead Ads. When users click a lead ad, it takes them to a contact form right in Facebook, rather than your business website.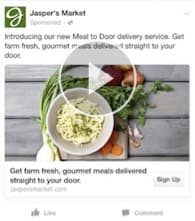 Facebook mobile lead ad with "sign up" button.
Lead ads address a main concern of Facebook users, which was the slow load time of a website once the ad was clicked. While it does keep users inside the app, the lead ad can be a valuable tool for capturing potential customer information. Consider this as part of your overall social media marketing spend in 2016.
While Facebook is not the only social media advertising option available (Twitter, LinkedIn, Pinterest, Instagram, and Tumblr have recently stepped up their advertiser programs), we think the sheer volume of user activity on Facebook combined with its first-party data presents incredible opportunity for your business. Consider these ad formats as standalone units or try combining them to reach your audience in new and different ways.