Who is Using Social Media?
A Look at Social Media Users by Popular Networks
If you're feeling conflicted these days by reports of who is and who isn't using which social media networks, then you're not alone. Just this past year, we heard that all teenage users had left Facebook for Snapchat, and that the biggest rise in social media users came from the animal world – that's right, people making pages for their pets. We're not kidding.
So we decided to cut through the noise and decipher where social media users are hanging their virtual hats these days, in hopes of helping you publish more relevant, engaging content to your online communities.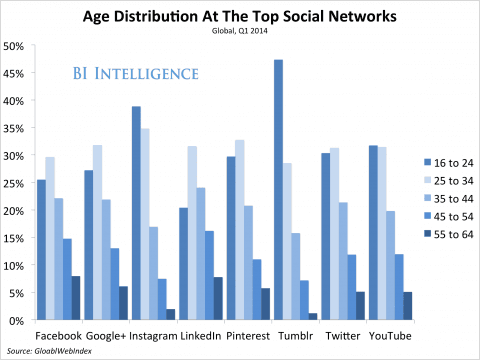 Social media fact: users ages 25-34 dominate most networks.
Facebook
When it comes to daily teen users, Facebook still has more than any other social network (BI Intelligence). However, users age 25-34 are the highest, and U.S. women are more likely to use this platform than men.
Twitter
With 22 percent of men using Twitter, compared to 15 percent of women, we found where the male users migrated. The majority of Twitter users lie between the ages of 16 and 34.
Instagram
There aren't many social media networks that skew younger, but Instagram is one of them. It's also the "most important" among young users, more so than Facebook and Twitter, according to Piper Jaffray. If teenagers are a part of your target market, it's time to get with the picture.
Tumblr
Tumblr joins Instagram as one of the few social media networks with a younger user base, with those ages 16-24 far surpassing those of any other demographic.
Snapchat
By far, Snapchat has the youngest user population of them all, with six out of 10 users in the 18-24 age group. However, Snapchat is not as popular as Instagram, in terms of U.S. users. (Informate)
Pinterest
Twenty percent of Internet users are regularly using Pinterest, with 33 percent of those being women and only 8 percent being men (Quick Sprout).
LinkedIn
Among U.S. adults, LinkedIn is more popular than Twitter. The professional-based social network attracts the most users in the 30-49 year old demographic, with a skew toward those who are well educated.
Google+
According to the graph above, Google+ retains the most users from ages 16 to 34, a similar finding to that of Facebook. Sixty-four percent of Google+ users are male, while only 36 percent are female (Quick Sprout).
YouTube
When it comes to video, YouTube is king of online content. But it's also dominating over offline content, reaching more users aged 18-34 than any single cable TV network.
Are these findings true to your own experiences?
We recognize this is not a one-size-fits-all guide to social media networks, but we're curious about the trends you've been noticing in your own online circles. Let us know in the comments.