The Future of Mobile Search
Considering the Future of Mobile Search for Mobile Websites
When we're considering the future of mobile search, we need to know why people are searching, how they are searching, and what they expect to find in mobile searches. As the number of people that use the mobile web continues to grow (it's forecast to take over desktop web by 2014), the reasons that people search and the outcomes they expect are changing. Businesses that want to be successful in the future will need to understand the specific search habits of mobile users and position their mobile sites accordingly.
Mobile web is the fastest growing online arena.
Currently, approximately 900 million people access the web through their mobile phones, compared to 1.4 billion desktop Internet users. In 2014, mobile web users will outpace desktop users: 1.7 billion to 1.65 billion approximately. (Source: Wikimedia) Consumers are shifting much of their lives to mobile, including their search!
In fact, according to a comScore report from September 2012, desktop search is down for the first time.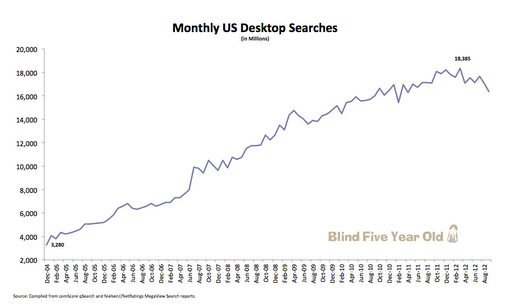 In another study, investment firm Macquarie Group reported that by the end of 2012 nearly a third of all Internet search traffic will come from smartphones and tablets.
Why does the data look like this?
There are several reasons why the data could be showing these numbers:
More people own mobile devices than ever before. Half of U.S. adults own a smartphone and 34 percent of mobile consumers own a tablet. By the end of 2013, there will be 140 million smartphone users and 100 million tablets.1

Mobile devices are always with us, providing more opportunities for search than their desktop counterparts. Thirty-one percent of current cell Internet users say they mostly go online using their cell phone, and not using some other device such as a desktop or laptop computer.2

More channels are driving people to the mobile web, such as social media, SMS campaigns, email marketing, and QR codes.

Mobile users want to feel like they're actively participating in the world around them, and their devices (along with mobile web) let them do that.

People are busy, but their mobile devices let them do what they need to do on the go. Consider how many places now offer free WiFi.
Which leads us to our next point. People on the go have different search intentions than people doing searches on a desktop computer. The reasons for searching vary from desktop to tablet to mobile.
For example, here is how a search for "pizza" might compare on different devices:
Desktop – pizza recipes or information

Smartphone – directions to local pizza shop

Tablet – pizza shop reviews or menu items
As we can see, the need to reach mobile users is growing, and businesses have to grow, too, to succeed in the future. Especially now, as the holidays are the next big event expected to see this impact, and most smartphone and tablet owners use their devices for shopping-related activities.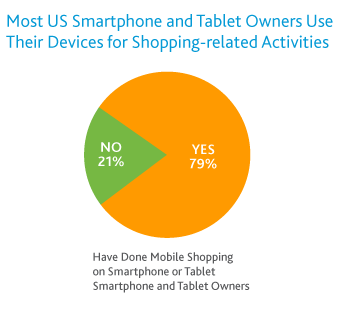 Best Practices for On Site Optimization
It's important to have a mobile friendly site that is easy to access, navigate, interact with and perform an action from. Why? Because according to a July 2011 study by Equation Research, 46 percent of consumers are unlikely to return to a mobile site if it didn't work properly during their last visit.
So how do you ensure that your site can properly meet the needs of consumers and maintain solid performance within search engines?
Let's take a look at two different types of mobile sites that were used during the 2012 U.S. presidential campaign.
President Obama's Responsive Site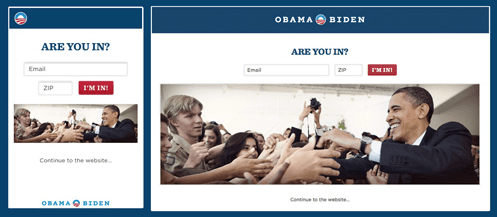 Governor Romney's Dedicated Site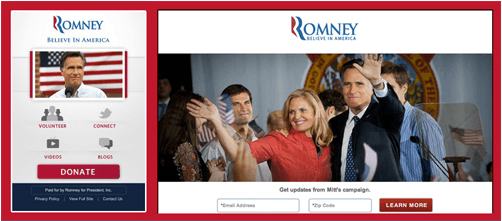 What's the difference between a responsive site and a dedicated site? A responsive site lives under the same roof as the desktop website, so it gives visitors full access to the same content. A dedicated site is separate from the desktop site and often does not have all of the same content.
The winner is always going to be the responsive mobile site, and here's why:
Responsive web design is better because search engines don't see it as a totally different site. There is one HTML code for the page regardless of the device, but the presentation changes using CSS media queries. This makes it easier for users to interact with, share, and link to content, and for Google's algorithms to assign indexing properties to that content. The Official Google Webmaster Central Blog states: [With responsive design] Google can discover your content more efficiently as we wouldn't need to crawl a page with the different Googlebot user agents to retrieve and index all the content.
But how will people find your site?
Equally important to creating the right type of mobile site is making sure that people can find it in the first place; that is, ranking well in mobile search results for keywords that best match your content.
Again, it's important to recognize that the keywords being searched on mobile devices generally have different intentions than on a desktop. In fact, the keywords are typically 25 percent shorter, too.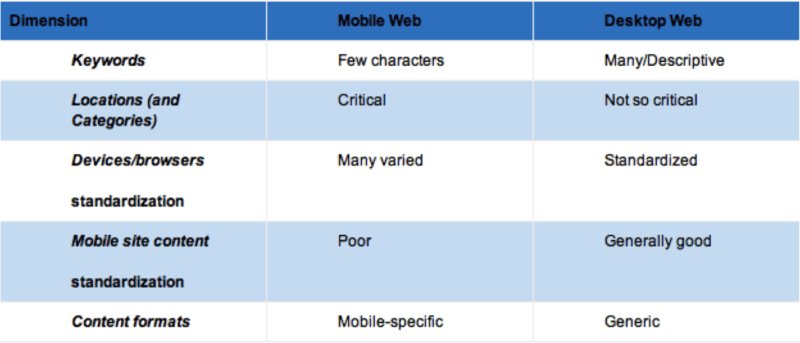 Some things to consider for the future of mobile search:
Local results are most likely in mobile searches

Autocomplete results appear before results in mobile app search

Certain queries have interactive results in mobile (link to call, reviews)

Android users = always logged in

Position of vertical results are different in smartphones (bigger impact on smartphones)

Blended mobile ranking algorithm – Google "blends" local search results within the traditional organic listings to further refine for mobile users

CTR & bounce rate vary from mobile to desktop – Advertisers with mobile-optimized sites and targeted campaigns have 11.5 percent higher clickthrough rates than non-mobile optimized
If you haven't spent the time learning about Google Analytics, you'll want to do it now. The metrics for mobile search are likely very different from the metrics for desktop searches, so you'll want to include the server-side code snippets on each page of your mobile site. You should also test how your site appears on different mobile devices, and a simple way to do that is to visit Google's Go Mo site.
Off Site Optimization Best Practices
Off site optimization includes your local settings, social networks, mobile site map and crawlers, and voice search.
Local Settings Because mobile search is heavily weighted toward local queries, it's important to include your business name, address and phone number in your search citation. Use high-quality images that relate to your business, add some flavor to your category settings (instead of "Free WiFi" try "Free WiFi (Yes, YouTube & Facebook!), and give people an incentive to checkin to your establishment. Again, use Google Analytics at least once a week to monitor your mobile search performance.
Social Networks First and foremost, be sure to claim your social profiles on networks like Facebook, Twitter, Google+ and LinkedIn. Then, think about the context as it relates to different devices, location, time, social relevance, and personalization. When are people searching? What are they searching for that's around them? What are their ages and genders?
Mobile Site Map & Mobile Crawlers Because Google will not crawl URLs serving only non-mobile web content, you'll need a separate mobile site using XHTML mobile profile (WAP 2.0), WML (WAP 1.2), or cHTML (iMode). Then, submit your sitemap to Google.
Voice Search Voice recognition services like Siri, Google Voice Search for iOS, and S Voice and Google Now for Android have all expanded their mobile search capabilities. However, Siri often bypasses traditional search results in favor of local listings through Yelp, Facebook, Twitter and other social media. Pay-per-click ads are ignored by Siri, too. Google and Android voice search now shows visual and text results, in addition to spoken responses.
Where the Future Lies with Mobile E-Commerce
As mentioned earlier, many mobile device users are tapping in to their smartphones and tablets for help with holiday shopping this year. An Ipsos OTX/Google 2012 Holiday Shopping Intentions Survey showed these numbers: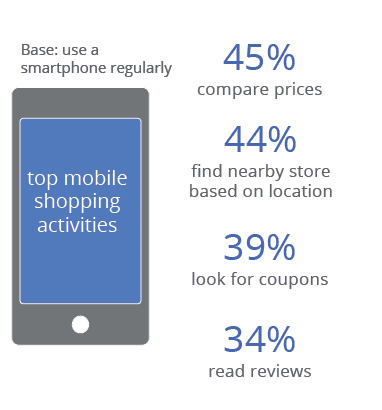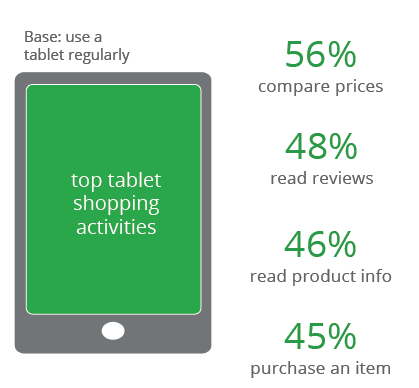 Even more convincing is the fact that 68% of shoppers expect to spend the same or more this Christmas holiday season than the last. One in three shoppers expects to spend more than $500 on gifts this season. According to the same LivePerson Holiday eCommerce Survey 2012, 40 percent of holiday shoppers say they would likely use live chat on their mobile device to get assistance.
What conclusions can we draw from this data? Clearly, holiday shoppers will be relying heavily on their mobile devices to compare pricing information, check product info and reviews, and ultimately spend that money.
So give them a little help:
Clear Call to Action:

Find a Store Near You, Purchase Now, Sign Up Here

Incentives:

20% Off Mobile Orders, Free Pastry with Any Drink Today Only

Mobile Payments:

Example – Starbucks notifies users of nearby stores and provides payment screen without having to go into app
Companies that are doing it right:
1-800-Flowers: Find a Gift Fast Caters to User Needs On-the-Go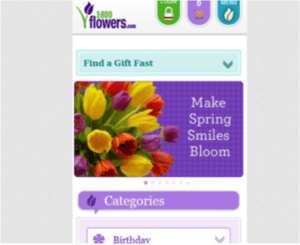 HairClub: Clear Call to Action with Phone Number and Categories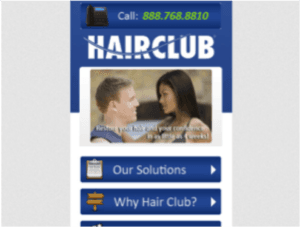 Macy's: Clear Discounts/Incentives and Call to Action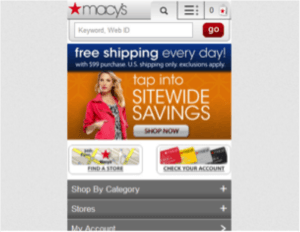 There has never been a better time to develop and customize your mobile site.
Mobile sites are part of something bigger – the purchase of a product, an opt-in for a newsletter, or the vote of your countrymen. All of these objectives are important and must be addressed in new ways. Mobile search is the future.
In fact, 70 percent of mobile search users will take action within 60 minutes. Imagine what your mobile site could have been doing while you were reading this blog.
1 June 2012 Mobile Content Study conducted by Frank N. Magid Associates, Inc.
2 Pew Research Center's Internet & American Life Project, March 15-April 3, 2012 Tracking Survey