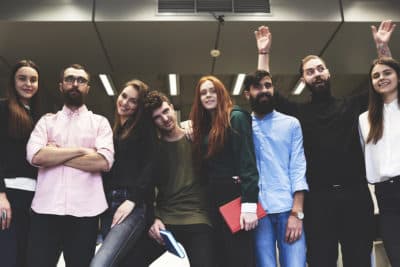 Not just surviving, but thriving: software companies on Instagram.
How Software Companies Can Kill It On Instagram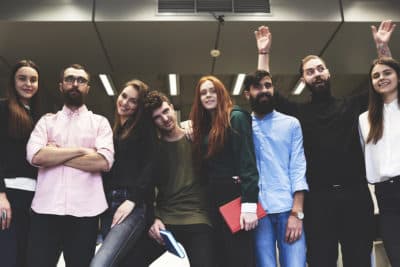 Instagram's rise to 1 billion monthly active users makes it an insanely attractive platform for businesses. To make things more interesting, it's predicted Instagram will overtake Facebook in usage in the U.S. by 2020.
It's no wonder brands are jumping at the opportunity to reach potential customers in this space.
But what about businesses that lack a storehouse of exciting visual assets, like software companies? How in the world can these brands kill it on Instagram without stunning photos in their arsenal?
To help you launch an effective enterprise Instagram marketing campaign, here are a few approaches that have been successful for other brands in the software industry.
Show Off Your Company Culture
Sprout Social, a social media management software program, uses Instagram as a platform for promoting its company culture. You'll regularly find posts about its team members, what's going on at the company, and what Sprout Social is celebrating at the moment.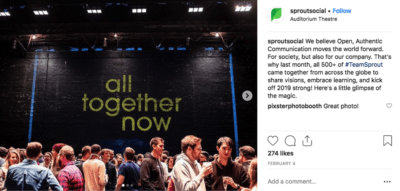 Software companies like Sprout Social are rocking it on Instagram. (Source)
Why is it beneficial for software companies to highlight company culture on Instagram? Not only do potential customers care about the people behind the company, but these emotional connections also influence their decisions when choosing a brand.
Photos of your software's dashboard make it difficult to communicate what defines your company, but with images of your people you can establish emotional connections with consumers who share your values and beliefs. You can start a relationship based on common interests and goals, using authentic images that resonate with potential customers.
As a side benefit, sharing your company culture on Instagram can also help you attract top talent. By showcasing your unique environment, and the people who make it great, you can engage new talent that is excited and motivated to support your business goals.
Highlight Software Clients and Stories
If you see other businesses experience success with a brand, then it makes you feel good about working with that brand. Right?
Quickbooks, one of the leading accounting software companies, is absolutely killing it on Instagram. One of their tactics: photos of clients and snippets of their success stories.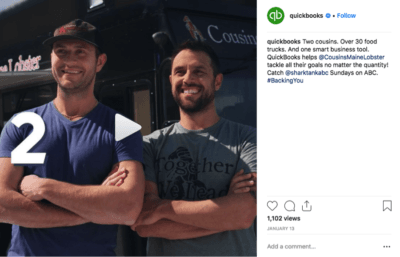 Quickbooks promotes its success with clients – big and small – to create trust and confidence among consumers. (Source)
All software companies have clients, so dig up your best customer stories and start posting about them on Instagram. It's way more exciting than using your company logo…again.
Get Your CEO On Camera
Gone are the days of the "man behind the curtain." Customers want CEOs to be more visible, and Instagram is the perfect setting to get yours in front of potential viewers.
Digital Ocean, a cloud computing platform, puts it all out there in a fun video where its CEO becomes the System Administrator for the day.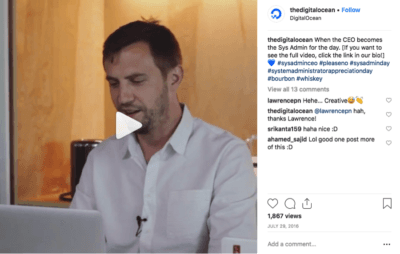 Software companies are dominating Instagram with video posts. (Source)
Making your CEO the face of your brand (or at least part of it) is an effective strategy in general, but the dominance of visuals on Instagram makes it that much easier. You don't have to use a video to gain traction; you can post images of your leadership speaking at conventions, gathering with clients, or introducing a new location or publication.
If your CEO is on board for video, then you could have him or her share exciting company updates or business advice. Have the CEO give a tour of the office or a snapshot of where they spend their downtime. Whatever you choose, make sure it's interesting to your audience.
Whether or not your software company has started an enterprise Instagram marketing campaign, it's always helpful to get fresh ideas for engaging potential customers. Let us know what other approaches you've had success with in the comments below!