Note-worthy presentations were aplenty at the 2019 SMX East Conference.
SMX East 2019: The Biggest Search Marketing Takeaways
SMX East is Marketing Land's largest search marketing conference series, attracting thousands of global marketers to discuss the biggest trends, successes, and failures in – you guessed it – search marketing. The two-day show, held in New York City, includes the industry's most respected speakers and A-list thought leaders, presenting immersive sessions on what's happening in the world of search.
This year was no different. In fact, SMX 2019 revealed some of the biggest search marketing news we've heard in a while. Below, we summarize the key takeaways from the event that marketers and businesses can integrate into the last bit of 2019 and in the future.
Google is Now Your Biggest Search Competitor
It used to be, your biggest competition in Google's organic search results were links to websites other than your own.
But, oh, how times have changed.
Today, your biggest competition in organic search results is Google.
Yes, you read that right; Google's Alphabet sites now divert 14% of all traffic to their own sites, courtesy of zero click searches.
Zero click searches, or no click searches, happen when the answer to a user's search query appears at the top of the search results page. The user receives the answer without needing to click on any search results links – reducing the amount of traffic to other websites.
An example of this is a Featured Snippet: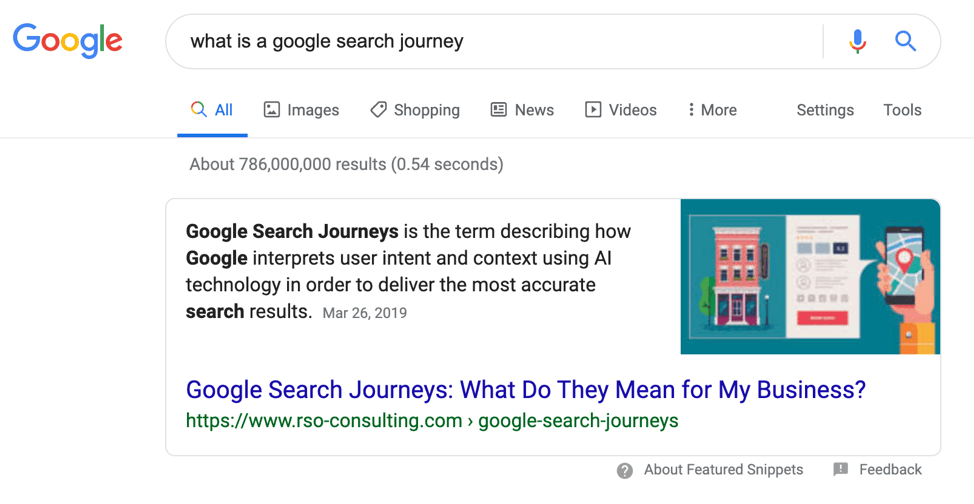 Featured Snippets show up first on a search results page, providing answers without the need for users to click for more information.
In essence, Google now provides content taken from other websites without passing the traffic to site owners, and it is having an impact on SEO performance for those websites.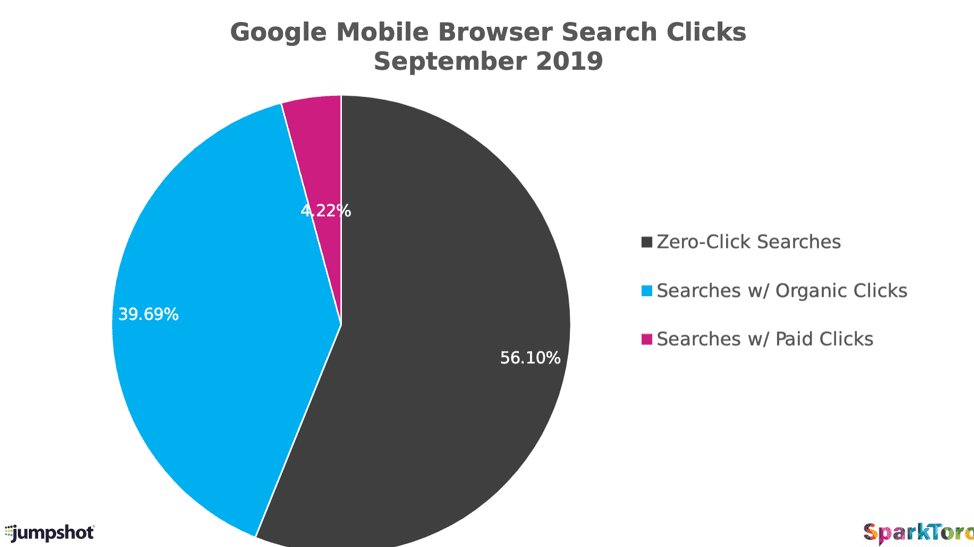 Source: SMX East Conference
The Evidence for Zero Clicks is Widespread
The news about Google becoming the major competition in organic search results isn't speculation; there is a mountain of evidence to support it.
For example, Merriam-Webster's organic search rankings have seen a dramatic increase, yet their traffic is way down: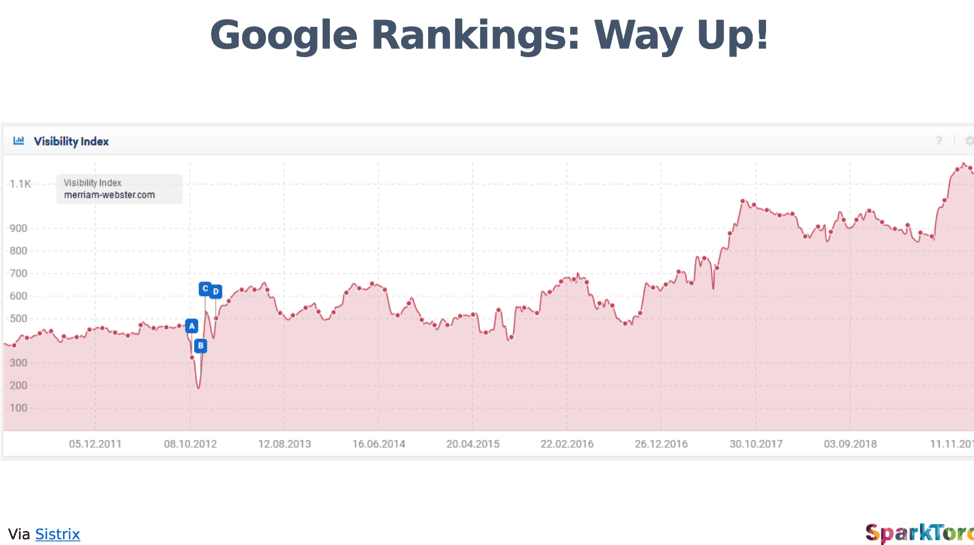 Source: SMX East Conference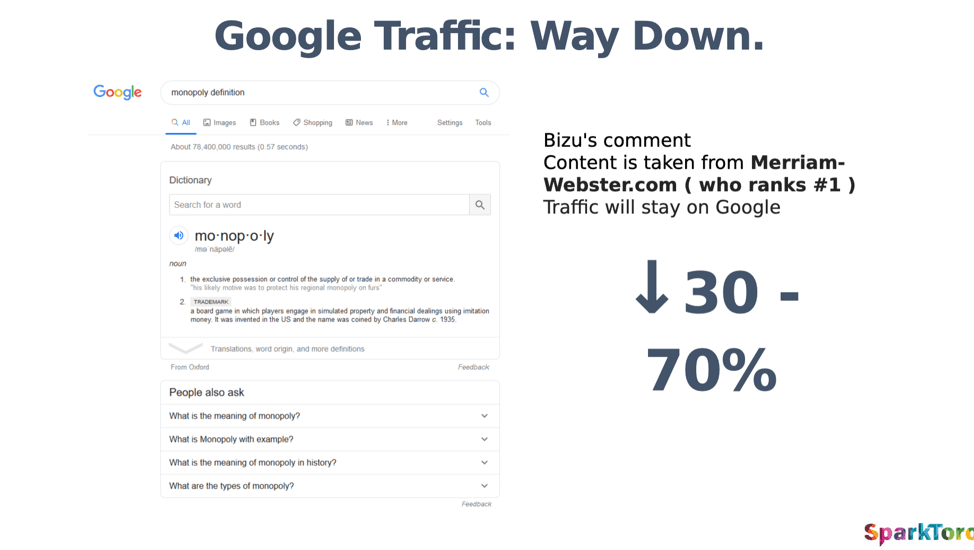 Source: SMX East Conference
Other companies having similar experiences include Expedia, Eater, Yelp, Kayak, US News, Weather.com, and many more.
You may have even noticed how easy Google makes it to book a hotel from search. You never even have to visit the hotel's site to book a room. Good for you, good for Google, bad for the hotel.
Google "Forcing" Companies to Pay for Advertising
As if the search marketing news from SMX didn't already seem gloom and doom, then came the realization Google is essentially forcing companies to pay for advertising in order to make up for the lost organic traffic and to protect their brand.
Jason Fried of software company, Basecamp, attested to this earlier in the year in an article on Google search ads, calling the practice a "shakedown."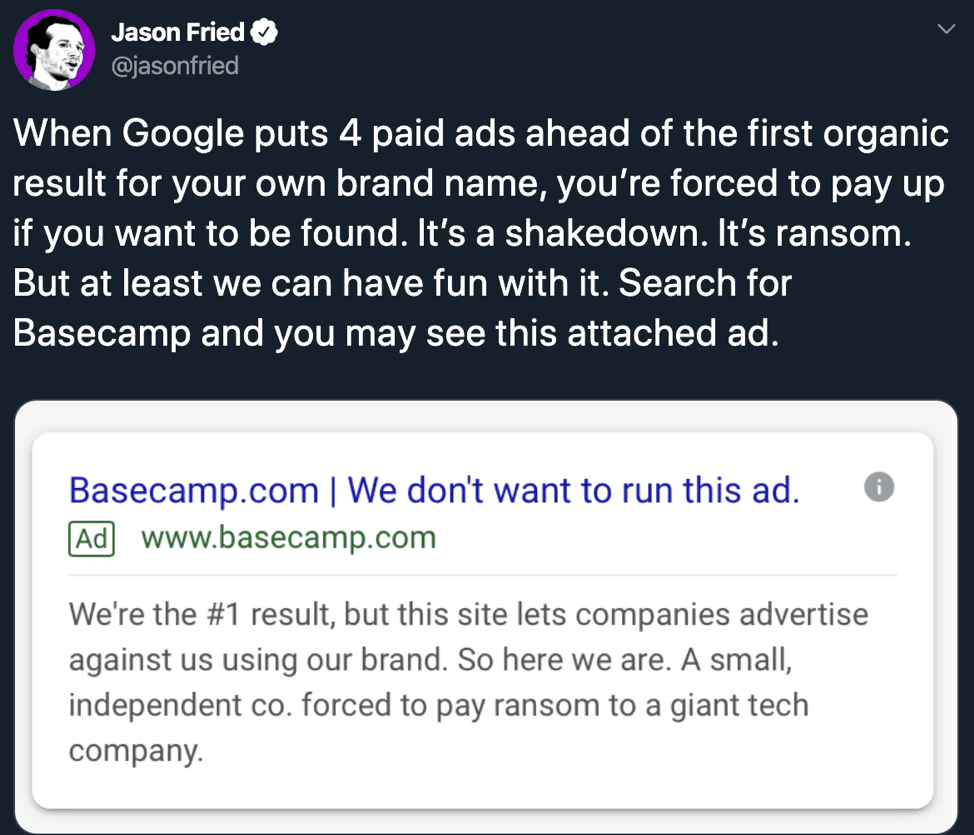 Source: Twitter
Of course, no one is actually forcing you to pay for search advertising, but without it:
Google's zero click searches are taking part of your traffic from you

Your competitors could be advertising using your search terms – or worse, your

– grabbing even more of the traffic
It's a pay-to-play situation right now, where your advertising spend directly correlates to your position in search rankings.
Let's Address These New Challenges Together
If you want to learn how to best navigate through this challenging landscape of search marketing, then reach out to us. We're here to be your advocate, your guide, and your champion for all things digital marketing.