SEO in 2014: Google In-depth Articles
In 2014, we will see high-quality content tip the scale for search engine optimization (SEO), especially as Google expands its In-depth Articles section on page one.
Why did Google introduce In-depth Articles?
According to the search engine specialists, there are enough people looking for well-developed, unique content that it created a special residence for in-depth articles among organic search results and paid advertising on page one, the holy grail of search engine results pages (SERPs).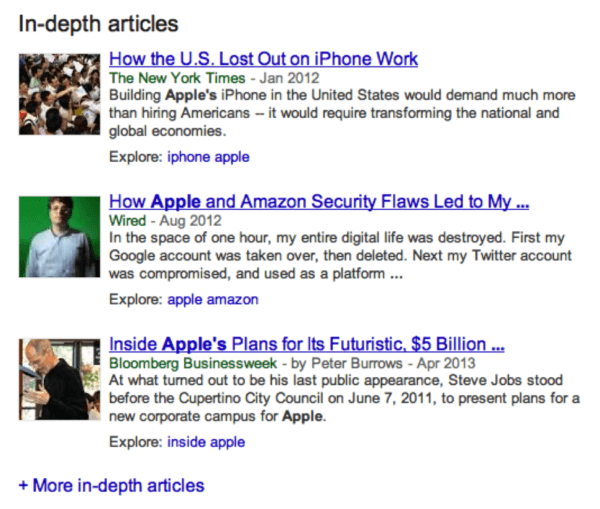 Writing for Google's In-depth Articles will help SEO in 2014.
Organizations that want to drive a greater amount of traffic to websites will need to focus more effort on creating high-quality, online content in order to increase the odds of appearing higher in SERPs.
Quality and Quantity
In 2014, it isn't just about the quality of your content that will help SEO efforts; content needs to be the right length as well.
Blogs or other content that contain 2,000-5,000 words seem to be favored for Google In-depth Articles.
And, as with content in the past, it should be different than anything else that can be found on the web.
So, whether or not you have a content strategy in place, always be thinking about what type of content you can make your own, write at length about, and move toward the ranks of Google's latest front-page feature.