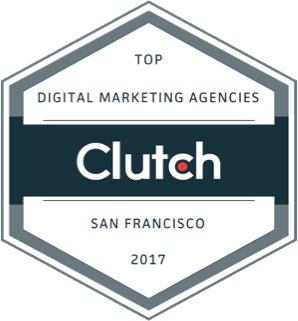 Badge of Honor: Clutch Top Digital Marketing Agencies San Francisco for 2017
Recognized as a Top Digital Marketing Agency in San Francisco!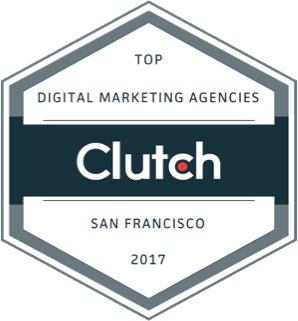 The number of digital marketing agencies continues to grow, and the marketing field constantly has to adapt to the introduction of new technologies and fickle consumer trends. In this environment, how does a buyer identify their ideal agency? What does a quality agency even look like? In an attempt to provide buyers with a resource to sort through this crowded market, Clutch has created a reliable and useful platform. They are a B2B market research firm, based in Washington, D.C, that assigns ratings and conducts reviews for services and solutions providers. They regularly publish reports on the companies that have excelled in their corresponding segments. In their most recent one featuring top digital marketing agencies in San Francisco, RSO Consulting is proud to announce that we have been highlighted among many other distinguished firms!
The process involved in rating and ranking companies on the Clutch site depends on their own research methodology. They take into account a company's service lines, industry scope, and market presence, among other qualitative and quantitative factors. For instance, RSO Consulting is divided by 40% SEO, 20% PPC, 20% social media, and 20% digital strategy. We cover many different services, because we believe that an integrated approach is the key to successful marketing.
Above all, one of Clutch's main differentiating features is its client reviews. Analysts at Clutch conduct phone interviews with a company's clients. A client is asked to provide information, regarding project management, the quality of results, cost, and other relevant factors. Of course, every marketing agency's end goal is to ultimately increase ROI, but that number alone does not indicate whether an agency can collaborate well and offer their client a seamless experience. These qualitative reviews provide deep insights into the necessary factors that make up a strong professional relationship.
As such, we are very grateful to our clients for taking the time to share their experiences, and providing an extra source of credibility to our company and for prospective buyers. Here are just some of the comments that praise our ability to not only produce results, but also perform with the highest level of professionalism:
"Their level of competence stands out to me. I feel like they're always a step ahead of me, which I don't feel about too many people." – CEO, Motorcycle Helmet Online Retailer
"Even with my minimal investment, I still got the expertise and handling of someone who had a bigger budget. They have an affinity and passion for what they do, and they want to share that knowledge." – Demand Generation Manager, SkyHigh Networks  
Enterprise, medium-sized, or small, we strive to give every client maximum personal attention. What we promise to deliver is more than just stellar metrics, but also a quality experience---one that the client and also our team of experts can grow and learn from. In this light, we're very excited to be given this recognition by Clutch, and look forward to the future opportunities to come from our continued presence on the site! To learn more about our previous work and our clients' experiences, visit our profile today.