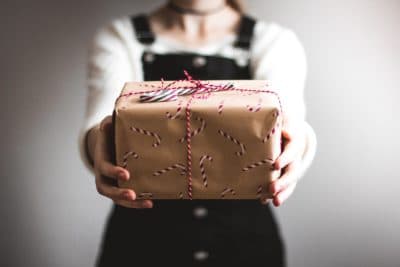 The gift of PPC advertising for the holidays – it benefits you and consumers. (Photo by Kira auf der Heide on Unsplash)
Pay-Per-Click (PPC) Advertising for the Holidays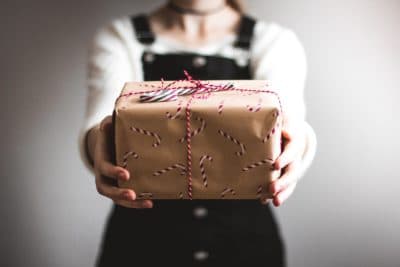 Do you hear the sleigh bells ringing? Or is that the hum of holiday marketing?
Yes, it's that time again; time for marketers to start the merry march toward the busiest season of the year.
If you're feeling the crunch already, then you'll be glad to know one of the fastest – and most accurate – strategies for targeting seasonal buyers is with pay-per-click advertising for the holidays.
What is Pay-Per-Click (PPC) Advertising?

A fine example of a PPC ad in search results.
Pay-per-click advertising, also known as PPC or paid advertising, is the process of bidding for online advertising placements. Ads can appear on search engine results pages or on third-party websites. Every time a user clicks on an ad, the advertiser pays a fee to the host, such as Google or Bing. PPC advertising is one of the most effective methods for raising brand awareness and generating leads in a short period of time.
Now that we have that out of the way, let's explore a few ways you can apply PPC advertising over the holiday season for maximum benefit.
Holiday PPC Advertising Ideas
During the holiday season, consumers have different needs and wants than they do any other time of the year. They're not only looking for deals, but they also want the gift buying experience to be easier.
That means your PPC ads need to speak directly to those needs and wants.
Here are a few ways you can connect with consumers using the right language:
Special Offers on Top Products
Your best-selling products are likely going to be top of mind during the holidays, so make it easy for buyers to find what they're looking for at your company by creating ads for them – and offering a special deal they can't refuse.
For example, if you normally target the keyword "coffee maker" in your PPC ads, then consider "coffee maker holiday discounts" for your holiday campaigns.
Then, get creative with your ad copy to include seasonal language as well as an incentive for buyers to choose you over your competitors.
Capitalize on Urgency
Even though Black Friday deals are starting earlier each year, some consumers won't consider spending until the very end. They could be waiting for deeper discounts, or it could be plain old procrastination.
Either way, you can capture these buyers with ads reflecting last minute deals or guaranteed shipping by certain dates.

Last minute deals: maybe you'll go visit your relatives after all.
Emphasize Free Shipping
More consumers are expecting items to ship for free, but not all companies are offering it. Make your PPC advertising stand out for the holidays by listing free shipping in your ad copy – or maybe order online, pickup in store or drive-up convenience.
Remember, consumers are looking for ways to make their lives easier during the holidays, and your paid advertisements can be the difference between someone choosing your business over your competitors.
Start Your Campaigns Today
PPC advertising is an effective way to get in front of consumers quickly over the holidays. If you're short on time but still want to get your campaigns in place, then reach out to our team for help with ideas and implementation.