Pinterest Quick Guide to Promoted & Buyable Pins
What are the differences between promoted pins and new buyable pins on Pinterest? Let's discuss.
Ever since Pinterest became the go-to online tool for people who wanted to find, save and categorize items by interest, businesses have been looking for ways to monetize their Pinterest activities.
In just under two years, the visually driven social media network has introduced two programs to address these needs: Promoted Pins and the new Buyable Pins.
So how do you decide if one or both of these pin products are the right fit to help you build brand awareness or drive revenue?
You can start with our short review of these pin types to gain a better understanding: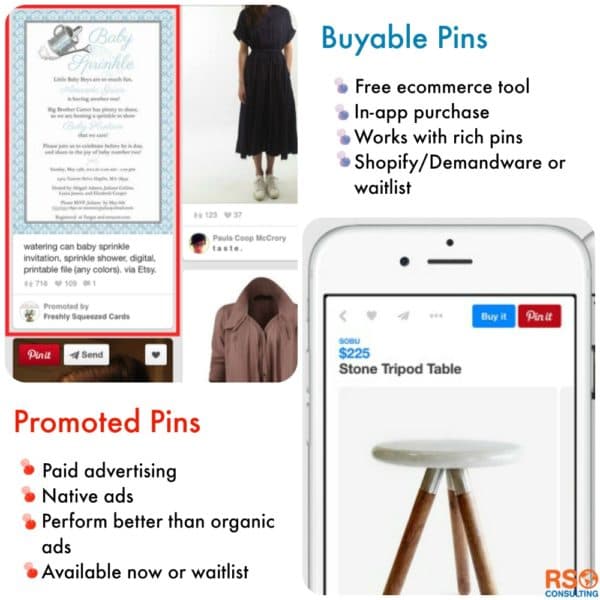 Promoted Pins
Promoted Pins are a form of paid advertising. They are native advertisements, so they show up in your Pinterest feed just like any other pin. Promoted Pins can be targeted at specific users in various demographic, geographic, and other behavior- and interest-based groups. For this reason, they tend to perform better than organic pins, which are displayed to a more general audience. U.S.-based business accounts can enroll in Promoted Pins now or join the waitlist.
Buyable Pins
Buyable Pins are a brand-new feature for Pinterest users. So new, in fact, that they are just rolling out to iPhone and iPad users (desktop forthcoming). Buyable Pins will make it possible to purchase a product directly from the pin, without leaving the Pinterest app. If a product is available for purchase, it will display a Blue "Buy it" button in the upper right corner.
Unlike Promoted Pins, the new Buyable Pins are free to use, and they work together with Rich Pins. For now, Buyable Pins will play nicely with Shopify accounts and Demandware accounts, but most retailers will be asked to join the waitlist while the program rolls out to more users and devices.
What other questions do you have about Promoted or Buyable Pins?