Online Reviews: Don't Fake It Until You Make It
We've been telling you for some time that online reviews are critical SEO ranking factors. If you've been heeding our advice, then you're likely experiencing some of the benefits.
If not, then here's another major reason why online reviews deserve your attention.
Local search.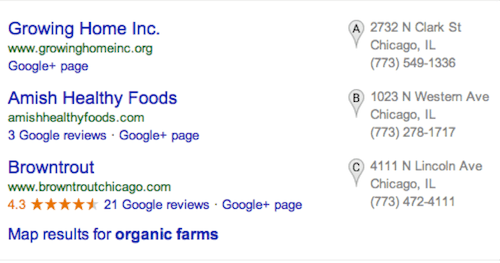 An example of local search results showing prominence of online reviews.
Why Local Search Matters
If you're like many businesses around the world, you have competitors. And if you don't, then consider yourself one of the fortunate few.
Either way, the ability to be found online – especially at a local level – is going to determine not only your SEO ranking but is also going to be a factor for your ultimate online marketing success.
One of the best ways to improve your listings in local search?
Real, positive, helpful online reviews written by real humans.
Think the search engines won't be able to tell real from fake?
They will. And they will penalize you for it.
Where and How to Get Online Reviews
Acquiring positive reviews on your Google+ Business Page is going to trump all other review sites simply because it is associated with the largest search engine.
That being said, sites like Bing, Yelp, and Angie's List (just to name a few) are also important places to display positive reviews and boost local search.
Besides asking directly for online reviews, you can also add a button on your website for sites where you want to be reviewed.
And, in the event you receive a bad review, address it immediately. Prompt damage control can go a long way in helping customers see your efforts in good times and in bad.
Let's Hear about Your Experiences
Have online reviews been a part of your online marketing strategy? If so, how have they performed as overall SEO ranking factors?