New Google Analytics Filters Boost Mobile Data
To truly understand the intentions of mobile traffic, you need data. In fact, the more data the better. Google Analytics now fulfills this need with its new filter fields for mobile.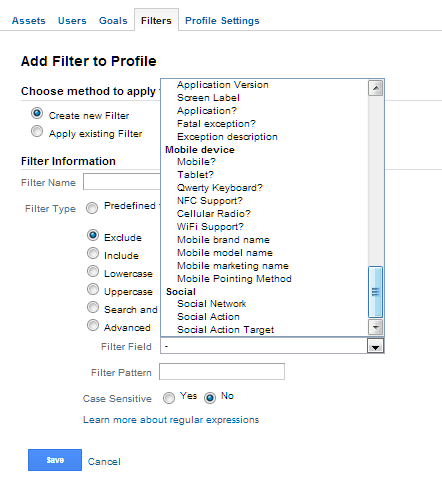 Mobile filters in Google Analytics provide even more valuable data.
Why Mobile, Why Now
Over the last few years, there has been a lot of chatter about the importance of mobile websites as part of an overall online marketing strategy. Now that businesses are seeing the benefits of including mobile, they are demanding the data to go along with it.
In addition to mobile websites, many companies now have mobile apps to quickly and easily address consumer needs. Data regarding the traffic and user patterns of apps is equally important.
Mobile Filters in Google Analytics
Of course, Google Analytics never does anything halfway, so the amount of filter fields for mobile can be overwhelming. It can also be really, really cool.
Depending on how you filter your profiles, the data can be viewed with incredible granularity. This gives you meaningful data that can help improve website pages or app usability.
With Google Analytics, you can now filter mobile behavior with the following fields:
Is a mobile device

Is a tablet

Mobile brand name

Mobile model name

Mobile marketing name

Mobile pointing method

Mobile has QWERTY keyboard?

Mobile is NFC supported?

Mobile has cellular radio?

Mobile has Wi-Fi?
Keep in mind that filters will not impact your advanced segments, so you can keep the two separate as you analyze the data.