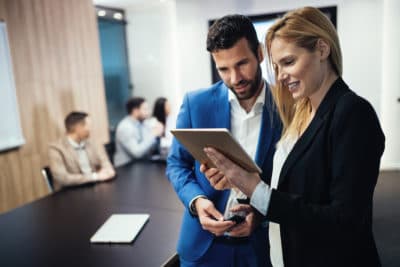 Lock in your website visitors by using the must-have home page features.
5 Must-Have Home Page Features to Win Your Most Valuable Website Visitors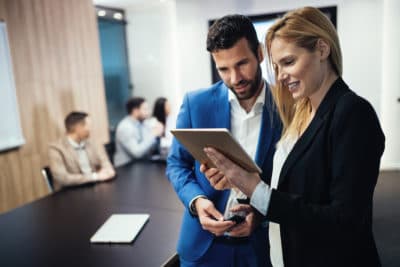 You've heard this one before: First impressions are lasting impressions. I would like to add when it comes to your company's home page, first impressions could also be last impressions, if visitors have a poor experience. Instead of losing your most valuable website visitors – your home page visitors – to opaque messaging or weak design, you can do something about it. Take a look at these must-have home page features to give your company and your visitors a big-time advantage.
Bold & Articulate Headlines
Treat your home page like a front door, and you'll understand why it needs to set the tone right away. Your headline and subheadline need to communicate three things:
What you do and who you do it for

Why it benefits website visitors

How it addresses their pain points
Not every company's name states what the company does, so it's up to your home page headline to spell it out – clearly and succinctly. The subheadline can be more descriptive, but should still be to the point.
Buffer does a fantastic job with their home page headlines. It's clear what they do (help businesses manage social media), how it benefits visitors (saves them time), and that they understand the challenges of their audience (businesses need one place for all things social media):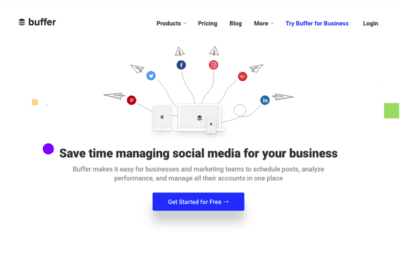 Buffer uses must-have home page features to win the attention of website visitors.
Headlines and subheadlines need to be bold – both literally and figuratively – so they stand out on the page and help visitors decide if they are in the right place.They should be able to communicate that your company understands where its website visitors are coming from, where they need to go, and that your company can help them get there.Headlines and subheadlines are must-have home page features because they can be the deciding factor on whether or not your most valuable website visitors stay on the site. It's heavy lifting, but when you do it right it can help you win the attention of those who matter most to your company.
Easy Navigation
While winning your home page visitors is goal number one, you also want them to continue on to other pages of your site. The best way to make this happen is to make it simple to navigate to those pages, from your home page.
Here's a great example from ButcherBox:

The ButcherBox home page with a must-have feature: easy navigation.
The top navigation includes Sourcing, How It Works, Our Story, Recipes and other pages where their home page visitors are likely to go next. It gives them the information they're expecting to find and makes it easy to get to it with one click.
Clear & Obvious Calls to Action
One of the other must-have home page features is a call-to-action (CTA) that makes sense and stands out. Your home page visitors are not likely to be ready to buy from you yet, but they may be ready to learn more about your company, sign up for a trial, or request a demo. Think about your audience as you are creating your CTA and make it obvious on the page.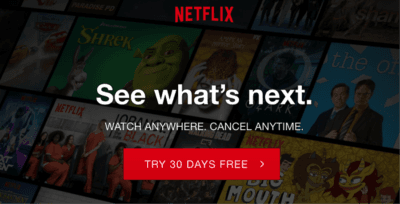 The Netflix CTA button draws attention to an action visitors are more likely to take.
Netflix recognizes its visitors may not be ready to commit to a membership at the home page, but their CTA gives them a reason to try it out (plus makes the button big, red and hard to miss).
High-Quality Video
Video is a highly effective medium in several areas of marketing, but on a home page it can lead to an 80 percent increase in conversions. This number alone makes it a must-have home page feature, so I'm including it here. Whether you add a how-to video or a product demo to your home page, make sure it's high quality to win that first impression.
Video on the home page is a must-have feature, and Wistia executes it well.
Wistia brilliantly incorporates video from the start. (Granted, they are a video company, so all the more reason to include it.)
Social Proof
If you want to grab the attention of your most valuable website visitors, then adding social proof to your home page is a must. What is social proof? It can be testimonials, case studies, reviews, statistics, photos or brand names and logos that can ease the minds of hesitant customers. In a nutshell, social proof proves to your home page visitors they can trust and invest in you, because others have done it – and have great things to say as a result.
The home page for the meditation app, Calm, flawlessly integrates social proof by putting its "Apple App of the Year" award front and center. (They also include numerous reviews further down the page, including one from musician John Mayer.)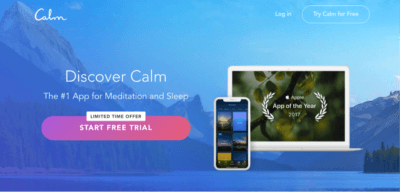 I'm feeling calm about using Calm, seeing that it won App of the Year.
So there you have it: the five must-have home page features to win over your most important visitors. Do you have any features to add to this list? Tell us about them in the comments!