Mobile-Friendly Label Comes to Google Search Results
For the past few years, Google has been promising to deliver SEO ranking signals to websites that offer up a mobile-friendly experience. While this behind-the-scenes work has given us indications that this is in fact correct, it isn't until now that we can physically see mobile-friendly websites become the benefactors of Google's mobile search algorithm.
Google's Latest Influence on Mobile Search
It used to be that mobile search users were left to their own devices when it came to finding a website that was actually functional (that is, no zooming/pinching needed, no scrolling left to right required to read text, etc.). This no doubt led to increased bounce rates for websites that were not optimized for mobile, abandoned shopping carts from frustrated customers, and an overall poor user experience.
Fortunately, Google is seeking to improve the situation with the introduction of mobile-friendly labels for its mobile search results. By assigning the label to eligible websites, Google helps searchers quickly identify sites that are designed with the mobile user in mind.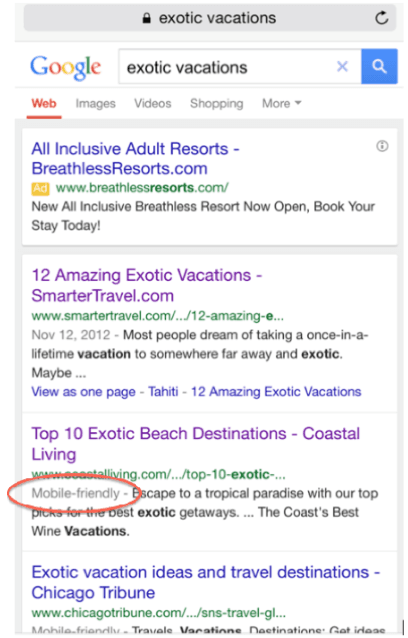 The new mobile-friendly annotation in Google mobile search results pages.
To be eligible for a mobile-friendly label, websites must meet certain criteria. According to Google, this includes:
Avoiding software that is not common on mobile devices, like Flash

Using text that is readable without zooming

Sizing content to the screen, so users don't have to scroll horizontally or zoom

Placing links far enough apart, so that the correct one can be easily tapped
What does this mean for websites already designed for mobile? It means checking for inconsistencies with the criteria above, and accounting for them when making edits to mobile sites. For websites that are not configured for mobile devices, there has never been a better time to make the update.
Earning the mobile-friendly label is going to be an important step for websites that want to stand out in a sea of search results pages and enjoy a share of the increasing mobile search volume, which is expected to surpass desktop by 2015.