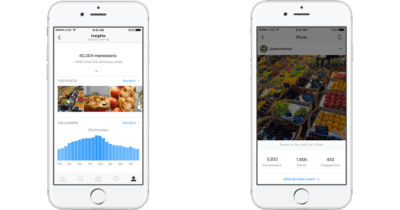 Instagram's Shiny New Tools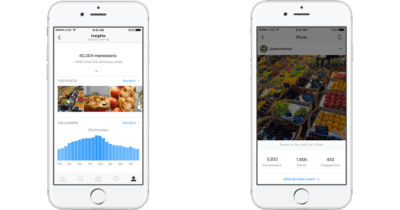 The potential of Instagram as a marketing tool has been foreseen for a long time. Today, Instagram's influence on marketing has become realer with the launch of tools for business users.
The new Business Profiles will allow business accounts to be recognized as such. They come with analytics, called Insights, and the power to turn posts directly into ads. Businesses can choose how they want customers to get in touch: calling, texting, and emailing will be available; even directions to their business. Instead of having to sort through messages and comments, businesses can offer customers the option of contacting them without hassle.
Insights provide businesses with information about who their followers are and which posts perform better. This includes top posts, impressions, and engagement, along with valuable data such as their followers' age, gender, and location.
These new analytics can tell businesses when the best time is to post, and what content has generated the most positive feedback. Learning audience demographics and behavior will make it easier for businesses to produce timely posts that resonate.
But not everyone can obtain a business profile. They must first have a Facebook Page in order to convert their account. Self-promoters without specific commercial interest won't have access to these shiny new tools, either. But Instagram says it will test Insights with verified accounts and may roll out to the general public in the future.
Moreover, the new business tools will let business profiles turn high-performing posts into ads within the app. Businesses can set a target audience of their choice or let Instagram choose for them based on audience and budget. Then the post will be promoted for the length of time designated by the business.
What's cool is this is all accessible through the mobile app. There are trade-offs compared to more advanced tools for creating ads, but Instagram's tools concentrate on speed and efficiency. Business profiles will roll out in the US in the coming months and worldwide by the end of next year.