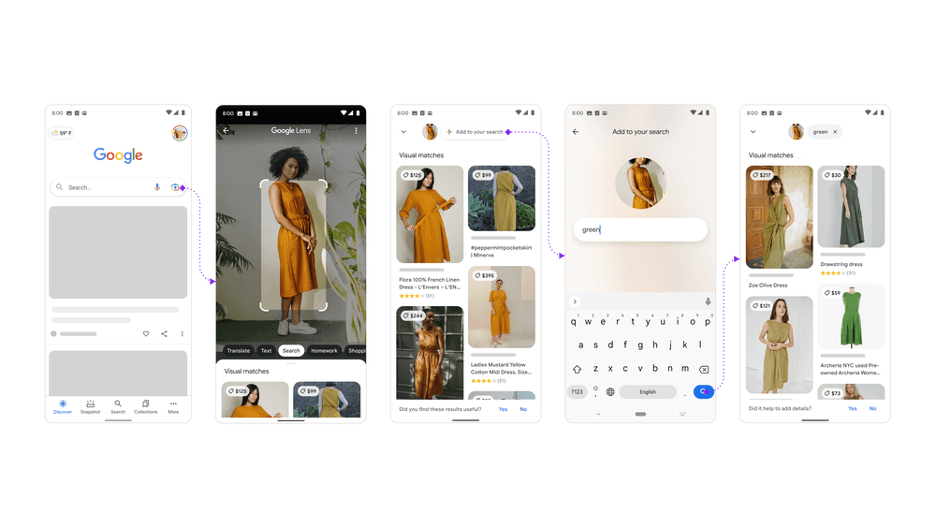 Google Multisearch leverages advanced AI for expanded search capabilities. (Source)
The Exciting New Google Multisearch Tool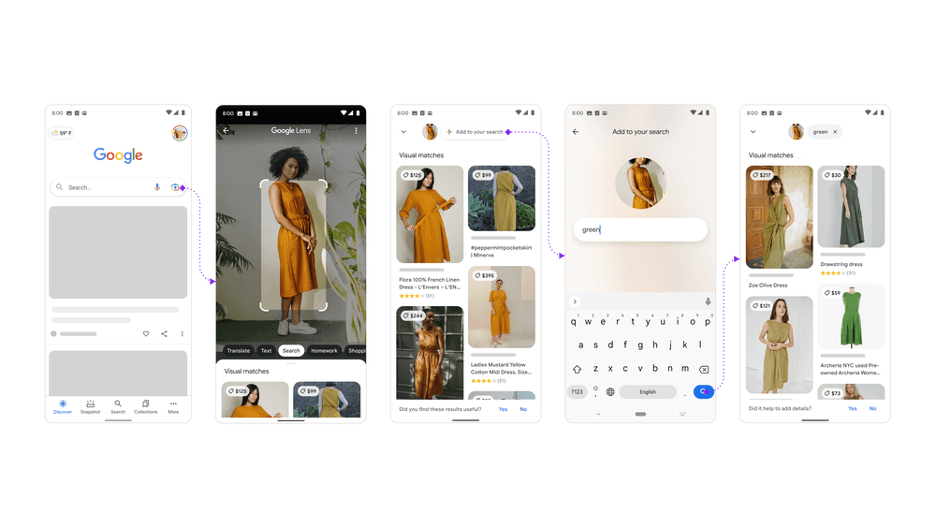 Our neighborhood garden nursery opened for the season last month, and we brought home a new plant to liven up the space. Only thing was, we didn't know anything about the species we selected, including how to take care of it. Fortunately, I had just read about the new Google Multisearch tool, which helped me identify the plant type and retrieve care instructions. It was a real life-saver – most of all, for the plant!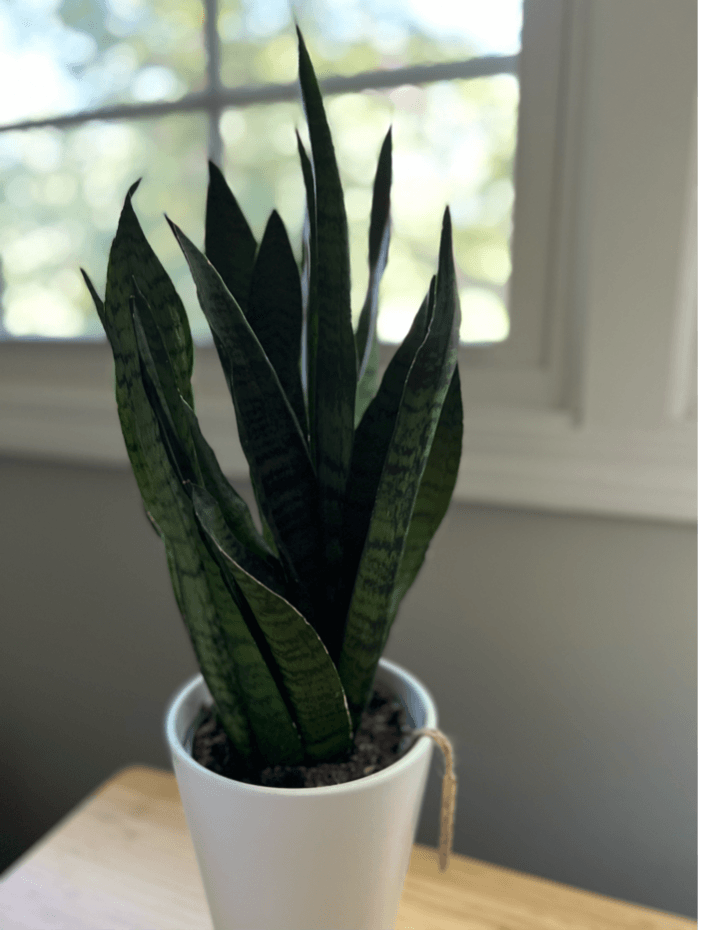 If this is the first time you're hearing about Multisearch in Google, it may be because the tool is currently only available as a beta feature in English in the U.S. Having used it now, I can't imagine the feature won't be expanded to everyone worldwide.
So, what is Google Multisearch?
Google Multisearch is a feature of the Google app that enables users to perform searches with text and images at the same time. Powered by the latest advancements in artificial intelligence, Multisearch lets users ask questions about objects by combining the users' photos and search queries.
With this in mind, you can probably start to see how this tool can be helpful not only in everyday interactions with your environment but also to assist with discovery and purchasing. Let's look at a few examples of Multisearch in action. 
Exploring the World with Google Multisearch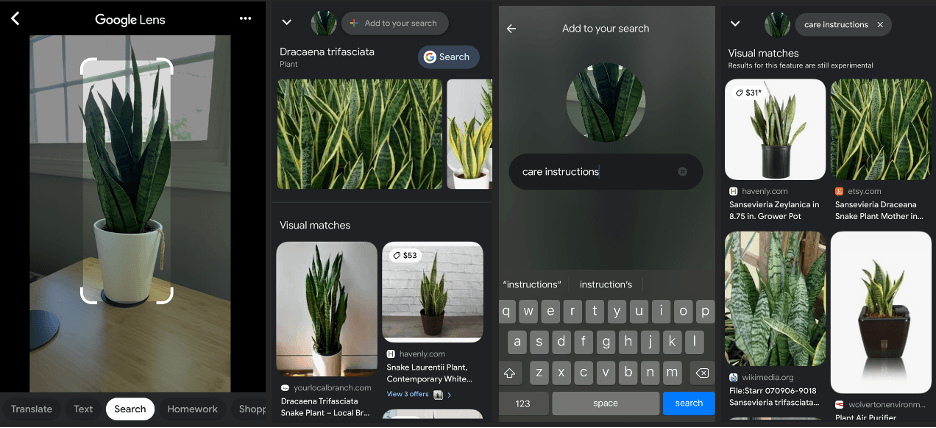 Use your own images and text to search for information about an object.
To help you visualize what exactly this tool enables you to do, I thought I'd share my experience with the mystery houseplant. You can see in the photos above that I used Google Lens (Google app's built-in camera feature) to capture an image of the plant. Then, I swiped up to get the second screen, which identified the type for me while also giving me the option to add text to my search – see the "+ Add to your search" button at the top of the screen. Next, I typed in the text "care instructions" to get the final screen, which showed me how to be a good caretaker.
It really is that simple. And you're not limited to plant life; you can use Multisearch for other queries like shopping or finding a sofa to go with your fireplace mantle.
Here's one I played around with for shoes. I'm a big fan of this style, but I really wanted something similar in red: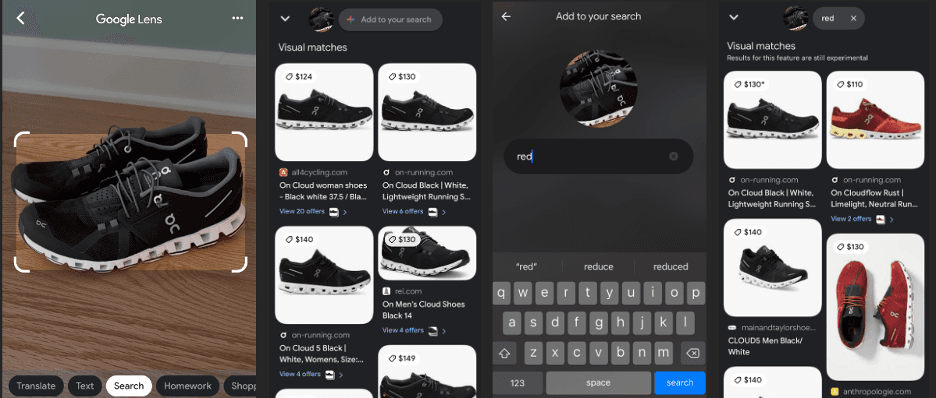 Not only did the tool help me learn about the brand of shoes, but also what was available in red and where I could go to buy them.
I did this again with the fireplace mantle in my friend's house to see what it would recommend as a complementary sofa for this room. The results were encouraging:
First, it showed me similar products. Once I added the text "couch" to the search, it gave me some decent photos of rooms with similar mantles and sofa ideas. Not a bad way to get inspired or even do some convenient online shopping.
Once I got going with this new tool, I started imagining other uses in my life. What's a good paint color for giving this old chair a new look? Where in the world did this restaurant find this wallpaper? How can I get a haircut like THAT one?
How to Leverage Multisearch for Your Business
While it's clear this new tool is an exciting step forward for users, what does it all mean for businesses? For one, optimizing your website pages and images for search is more important than ever. Google's AI has come a long way and is incredibly sophisticated at identifying images and content, but at this time you still need to apply SEO best practices for your products and services to be found online. Two, visual search is going to be increasingly important as marketing strategies expand to include virtual reality, augmented reality, and the metaverse in the coming years.