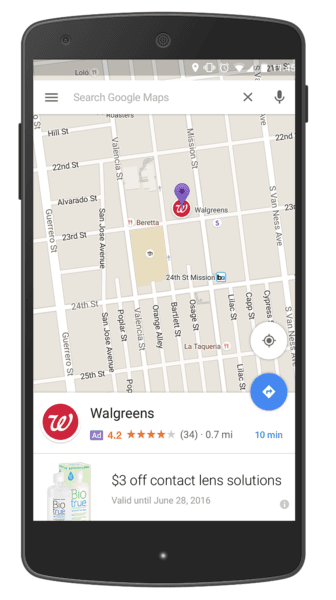 Google Maps' New Ads are the Best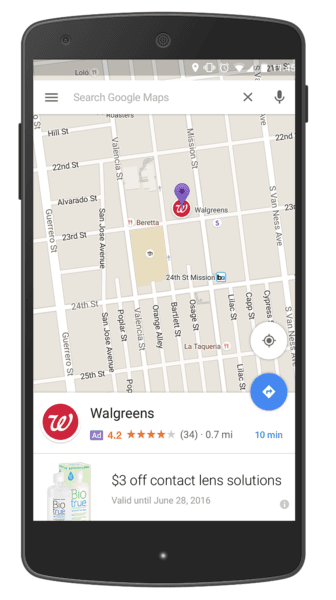 Google recently announced new features for local businesses on Google Maps and they are awesome. Say you're coming home from a road trip and you're dying to have a specific kind of fast food to end the weekend. You already have Google Maps up and running. You could search for the closest exit that leads to a nearby town, stop the car, then do another local search. But wouldn't it be great if Google Maps could suggest the best place to go between where you are and where you're headed, in this case home?
These and more are the real life situations the new Google Maps ads help solve. The focus is on increasing visibility of local businesses and driving traffic to them. Moreover, the new ads provide additional information such as in-store promotions and inventory to consumers looking for specific things.
New Local Search Ads
Advertisers who use location extensions in AdWords have access to Google's new local search ads. The ads will appear on desktop and in the mobile app. Google Maps app has over 1 billion downloads: think of what this means for potential customers to find your business. When these ads show up in Google Maps, they may include "Call" or "Directions" buttons to facilitate direct contact.
Promoted Pins
Location searches on mobile have grown 50 percent more quickly than other types of mobile searches. Google said that these changes to Maps bring together the physical and the digital universe, a most elegant explanation of location search. Promoted Pins are company logos that will appear in purple on Google Maps that lets potential customers know of the business's physical location nearby without obstructing the view of the map or distracting drivers.
In-Store Promotions
Promoted Pins leads to in-store promotions. Businesses that by ad space on Google Maps will be able to promote specials in real time. Imagine you are still on this road trip driving home looking for this In-N-Out. What if next to the promoted pin in Google Maps a location nearby was offering an in-store special? It would be hard to resist.