Google Image Extensions: The Big Picture
Now that the switch to Google AdWords' Enhanced Campaigns has passed, it's time to focus on one of the new online advertising program's most exciting features: Google Image Extensions.
As one of the highlights of Google's Enhanced Campaigns, the Image Extensions feature allows advertisers to pair relevant images with ad text. This search and display concept strengthens the ad's ability to not only stand out from the competition but also to drive more qualified traffic.
How Do Google Image Extensions Work?
Google's new Image Extensions allow AdWords users to include up to three images, which are then placed above the ad text.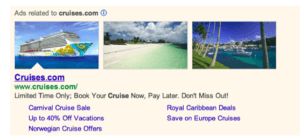 Example of Google Image Extensions
Some caveats: Currently, only first position ads can include Image Extensions, and images can only be applied to 30 ad groups. A Google rep (for the time being) must perform the application of Google Image Extensions, and the images must be owned by and hosted on the site of the advertiser.