Analytics Can Be the "Key" to Keywords
86400-1440-24-7-365. Google is on a hunt to help us find what we ask of it. All this high-powered engine needs is a few characters to produce results in what seems like nanoseconds. That's all there is to it. Or is it? Don't fall prey to the simplicity. It's the keyword relevance that draws in the qualified traffic to your website. So, in order to lure this highly qualified traffic you need to develop a better understanding of keywords.
That's where Analytics comes into play. There are a variety of free, subscription-based and pay-per-use keyword research tools available to help you find the right keywords. Google's Keyword Tool, with its huge database of keywords in over 50 languages, is one such example. You can even enter a word or a phrase that describes your business/website right in Google to get a sense of traffic. But before you do even that, utilize your Google Analytics account. That means moving from the shallow waters of the Analytics dashboard and taking a deeper dive into the Analytics data in order to conduct the appropriate research.
Google Analytics allows us to see the data in a nice context. It's almost like giving us the answers to a test. An entire "keywords" section is devoted to providing the keywords people used to find our website, how many visits from the keyword, how much revenue that keyword generated, the bounce rate and much more! This is very informative data to have before you start investing time and effort into organic and paid search.
This table allows us to see which keywords are performing well and which ones are not when it comes to the critical metrics such as the number of visits, time on site and bounce rate.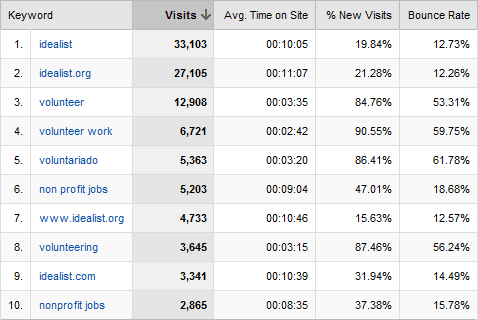 Analytics allows us to focus closer on a particular metric, in this case bounce rate compared to the website's average.
Remember, we want to lure qualified traffic to the site. SEO experts follow a basic thumb rule for choosing keywords that bring the most relevant, revenue-adding traffic to a website. Here are a few considerations:
Say no to single words. Phrases or long tail keywords are better than singular words.

Target highly searched terms that have as little competition as possible. However, do not use keywords that have less competition just for this reason alone.

Choose keywords that are specific with a narrow focus but avoid getting too specific so as to not lose traffic.

Localize your keywords by making use of your geographical location.

Use at least 2-3 different, but related, keywords on each of the pages of your web site (too many keywords on a web page will saturate your efforts).
Remember, you will want to get the most of out of your keywords when you begin to optimize. That means including them in obvious places on your web page (title tag, meta tags, copy) and not so obvious places (alt tags, anchor text) in order to achieve high keyword density, frequency and prominence.
Without having a good place to start for choosing keywords, the task can quickly become mind boggling given there can be literally millions of keywords to choose from. Besides, choosing the wrong keywords can be disastrous and set you back months if you are optimizing your site for organic search. For that reason alone is worth the time and research using Analytics.