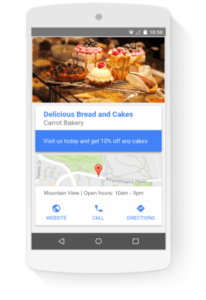 The AdWords location extensions can show photos, maps and hours in the ad.
Drive In-Store Traffic with AdWords Location Extensions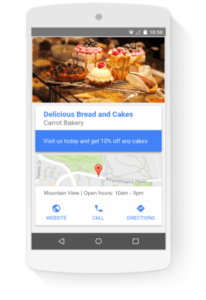 Google wants to help you increase traffic to your brick-and-mortar establishment, so they recently launched the new AdWords location extensions for display ads. Similar to call extensions (where users call you directly from your ad) or app extensions (users can download your app from the ad), location extensions in AdWords allow users to see your location, hours and photos in any of your ads on the Google Display Network – so they know exactly how to get to you and when they'll be able to spend all their money with you.
According to Google, early testing of the location extensions has shown that advertisers see an increase in clicks to their business, with 60% of clicks on this extension related to directions or store information. Thus, we have AdWords location extensions to make getting to your store seem effortless. Who doesn't want that?
When you activate location extensions, your ads can be seen by nearby users – or users interested in your business location – across relevant web pages and apps with themes relevant to your keywords. For example, if a user browses a recipe blog and they are nearby your restaurant, then they may see your display ad.
Who Should Use Location Extensions in AdWords?
If you rely on AdWords to help drive local business, then you should use location extensions to help users get more information about your establishment.
Once you include it in your AdWords account, campaign or ad group level, your ads will display any photos you upload as well as your business hours, a map and directions. Does it really get any better than this?
One thing to note, Google may automatically convert ads in text, responsive, and 300 x 250 image formats to the location extensions; however, you have the ability to opt-out within your AdWords account.
If you've been looking for a way to turn online activity into offline sales, then AdWords location extensions may just be your answer. Give this new extension a try, and see how it performs against your older campaigns.